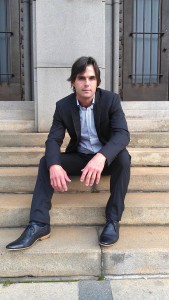 A New Orleans native, Richard Young began his professional career in the event industry over 15 years ago. Starting out in the technical end of audio and lighting designs for several New Orleans venues in the mid 90's, his knowledge of sound and lighting for events inspired his evolution to décor and design. His unique approach to event design and his creative enthusiasm has greatly contributed to the evolution of the industry through his business Event Rental.
Young's entrepreneurial thinking, charismatic personality, and go- getter attitude has brought him great success and allowed him to expand Event Rental to both Lafayette and Baton Rouge. Although he still works on major events and festivals in the greater New Orleans area, he currently lives in Lafayette with his five children.
Being outgoing and adventurous, Young developed a love for Lafayette's high energy, festival loving, and social culture early on. To expand his business, he invested in two properties of which he created event venue space: The Victorian in Broussard and the Feed & Seed in downtown Lafayette. Both of the facilities have historical significance and offer unique venue space. Currently, Young handles most of the larger festivals and special events west of Baton Rouge to Lake Charles. His style and originality is well known throughout the area, and he has received numerous awards and merits for his work and philanthropic contributions.
When Young acquired T'Frere's in early 2014 he wasn't sure what he was really getting himself into, but knew he loved a good challenge. In his short time of ownership he has invested much hard work and dedication to preserving the Acadian farm home while also converting the property into a more luxurious experience. As an avid collector of modern art, Richard relishes the idea of mixing impressive 19th century period pieces and décor with modern touches. "We envision a place that entwines both the old and new worlds by incorporating the parlor and other common areas into an art gallery that showcases pieces by local artists," explains Young. "I want T'Frere's to mimic in both splendor and style the historic homes of the French Quarter."
Richard values beauty, hard work, and family. When he is not working he enjoys seeing the world and spending quality time with his children. Guests will sometimes find Richard caring for his newly landscaped gardens, excitedly going over his ideas for future projects, or bringing his children over to help tend to the chickens and play in the court yard.